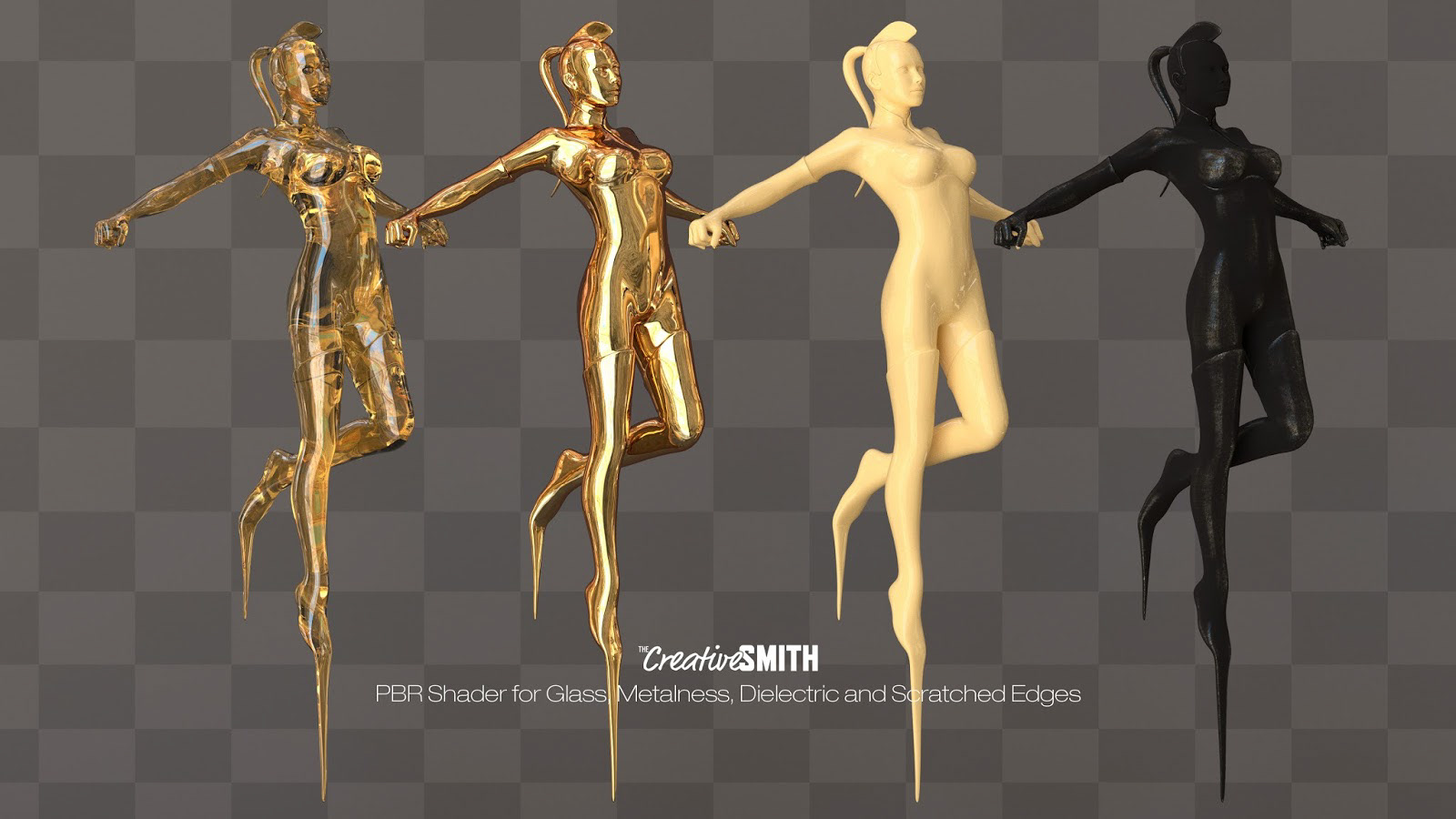 PBR stands for "Physically-based rendering" and is a trend that developed in the recent times, especially for real-time rendering. Real-time rendering means the use of textures in game engines. But that includes not only computer games, but also the new-media in the way of Virtual Reality (VR).
The PBR is open to define, what makes a clear description difficult.
Almost every 3D texture program such as
Substance Painter, Marmoset, Mari, etc. developed its own setup.
However, one can discover a certain trend, has become apparent in the texture maps.

This has led to a development of a PBR Shaders in Blender by Blender pros like "Blender Guru".

I have taken the last version of the "Blender Guru"-Shader as basic for my own PBR shader and have adapted it to my needs.

In addition to the shader settings for Dielectric, Metalness and Glass, also the Scratched Edge Shader arose.

The result you can see in the picture above.
PBR steht für "Physically-based rendering" und ist ein Trend der sich in der letzten Zeit besonders für das Echtzeit-Rendering entwickelt hat. Mit Echtzeit-Rendering ist die Nutzung von Texturen in Game-Engines gemeint. Darunter fallen aber nicht nur Games, sondern auch die neuen Medien in Form von Virtuell Reality (VR). Das PBR ist offen definiert, was eine klare Beschreibung schwierig macht. Fast jedes 3D-Textur-Programm wie z.B. Substance Painter, Marmoset, Mari, etc. entwickelt sein eigenes Setup. Jedoch kann man einen gewissen Trend entdecken der sich in den Textur-Maps abzeichnet. Das hat auch Blender-Profis wie "Blender Guru" zu einer Entwicklung eines PBR-Shaders in Blender gebracht. Ich habe mir die letzte Version des "Blender Guru"-Shaders als Grundlage für meinen eigenen PBR-Shader genommen und diesen auf meine Bedürfnisse angepasst. Dabei ist neben den Shadereinstellungen für Dielectric, Metalness und Glass auch noch der Scratched-Edge-Shader entstanden. Das Ergebnis seht ihr im Bild oben.